Co-operative With movemanSKG
movemanSKG recently supplied Midlands Co-operative Society's Overseal supermarket with a heavy-duty goods lift. Used to transport heavy stock from the storeroom to the shop floor, it performs a vital function in the busy Derbyshire store. Elaine Pullford, Branch Manager, was positive; "The goods lift is essential to the efficient running of the business. It means we can get goods to where they're needed in double quick time."
Midland Co-operative Society Limited – or Midlands Co-op as it is better known – is the second largest independent retail society in the UK. It employs some 7,600 staff and has over 400 trading outlets, including stores, garages and travel shops. movemanSKG recommended its Titan goods lift for the Overseal branch. Titan transports payloads of up to 1000kg and lifts up to six metres as standard.
The Society's new goods lift in Overseal is robust and hardwearing. Due to high customer demands, the supermarket requires constant goods replenishment, which subjects Titan to a rigorous workload. The lift handles the strenuous conditions and performs reliably. Finished smartly in white, it features ergonomic push-button controls, making it user-friendly.
Elaine continued; "We continue to be impressed with movemanSKG's goods lift. It reduces manual handling requirements at the store and means we can keep our shelves fully stocked at all times. The installation was trouble-free, professional and completed on time, despite the tight time schedule."
Titan is one of movemanSKG's most popular goods lifts. A self-contained unit with its own shaft, it requires no wall or external structure. A shallow pit requirement eliminates extensive building work and makes installation straightforward. Titan is highly versatile and available with a wide choice of door options and platforms sizes. This makes it configurable for a variety of applications and building designs.
Information
Article reference:
mm097
Date:
Aug-07
Hi-res picture
View a high resolution of the image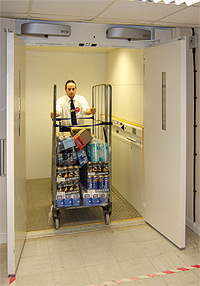 Other News Links
Previous article:
Next article: