New Goods Lift From movemanSKG Weighs In
movemanSKG announces the new Goods Lift 146. Featuring a lift capacity of up to 2000kg, it is ideal for tough, industrial applications. Goods Lift 146 is robust, powerful and straightforward to install. It will be popular with customers that need to move large and heavy items between levels.
Boyd Porter, UK Sales Manager at movemanSKG said "Goods Lift 146 offers superior strength and has the ability to fit where traditional goods lifts will not. It is an example of movemanSKG responding to market demands and launching a specific machine for a specific group of customers."
Goods Lift 146 will lift up to nine metres. It is a self contained unit, so no separate area is required for the drive and motor assemblies. It has its own integral shaft, which ensures safety and load integrity within the lift, and a shallow pit requirement keeps building work to a minimum. This means Goods Lift 146 can be installed in a matter of days. A solid steel frame gives extra strength and stability.
There is a choice of platform size and a variety of door options are available, including single or open through. This means Goods Lift 146 is configurable to suit a wide range of goods only applications and building designs. Mounted within the doorframe of each floor are pushbutton controls, which make Goods Lift 146 simple to operate and highly user friendly.
As with all movemanSKG lifts, Goods Lift 146 is EC type tested and conforms to Machinery and EMC Directives. A twelve month warranty comes as standard, along with two inclusive service visits in the first year of ownership.
Information
Article reference:
mm094
Date:
Jul-07
Hi-res picture
View a high resolution of the image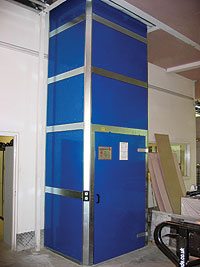 Other News Links
Previous article:
Next article: