movemanSKG Gets Wet In Weymouth
"Our five-star rating means quality and aesthetics are of foremost importance. The movemanSKG lifts perform superbly and look excellent. The advice and service we received was highly professional", said Paul Evans, Strategic Planning and Communication manager at Weymouth Waterside Holiday Park.
The Waterside Holiday Park offers fine accommodation and spectacular entertainment. Catering for a variety of customers, it is luxurious and attracts thousands of visitors each year. When new pool and gym facilities were built, access for the less able was a top priority. Platform lift specialist movemanSKG was approached for a solution.
Two lifts allow wheelchair access in the new building. Wet surroundings placed special requirements on movemanSKG. Resistance to water and corrosive chlorine is essential. The lifts must also be visually attractive to blend with the park's five-star appearance.
movemanSKG recommended the Prestige. A dynamic, versatile model, it is suitable for wet conditions. A lift height of 9000mm and a load capacity of 400kg mean it can handle demanding applications. The Prestige features tactile illuminated push buttons for simple control and easy access. It is lit as standard and can be finished in a choice of styles to suit any environment. This high level of adaptability was just what the park was looking for.
movemanSKG installed two stainless steel Prestige units and completed an excellent looking job. Paul Evans continued; "We are delighted with our new building development, of which the lifts are an integral part. Well done movemanSKG!"
Information
Article reference:
mm093
Date:
Jun-07
Hi-res picture
View a high resolution of the image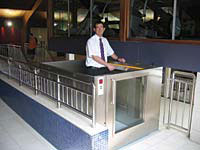 Other News Links
Previous article:
Next article: