movemanSKG In The Community
Regenerating deprived communities across Scotland is a key target for the Scottish Executive. In Blantyre, Scotland, Changing Places Blantyre/Hamilton is the local community regeneration partnership, responsible for working with key services and the community to develop action plans, which will improve the quality of life in a number of disadvantaged neighbourhoods.
Set in a freshly renovated building, the Partnership works alongside the local library and Community Links, a voluntary sector organization which engages with communities and ensures residents are involved in the regeneration agenda. A platform lift was required to aid wheelchair users access the offices and get around the building. With a reputation for providing lifts of quality, reliability and value, movemanSKG was identified as the right company for the job.
Expert advice is all part of the service at movemanSKG. Engineers visited the site to assess the application and investigate possible solutions. After consulting movemanSKG, the council opted for the Prestige model from the range of platform lifts available. The Prestige is one of movemanSKG's most popular products. Powerful and robust, it was perfect.
The Prestige is a versatile platform lift, which can be adapted to fit most applications. A self contained unit, it comes complete with a shaft and requires no wall or supporting structure. Suitable for lift heights of up to 9000mm, the Prestige has a load capacity of 400kg. An up-market product, it can be customised with a range of finishing options to blend in with any environment. A large platform ensures it is comfortable to travel in and it is reliable, safe and user-friendly.
"The service and installation from movemanSKG was seamless. The lift has proven to be a great success and has improved access for those with mobility problems wishing to use our facilities and services."Kay Mcintosh, Partnership Manager, Changing Places Blantyre/Hamilton.
Information
Article reference:
mm086
Date:
Feb-07
Hi-res picture
View a high resolution of the image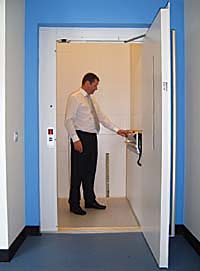 Other News Links
Previous article:
Next article: