Activity Centre Given A Lift By movemanSKG
As a leading supplier of specialist lifts, movemanSKG is constantly striving to solve the disabled access needs of businesses across the UK. One of its latest platform lift installations was at Grafham Water Centre in Cambridgeshire.
A new cycle shop, selling bikes, clothes and accessories, has been opened at the Marlow Leisure Park at Grafham Water. The Disability Discrimination Act regulations meant that the shop required a means of enabling wheelchair users to access the first floor. The solution is usually a ramp or lift.Platform lifts are ideal for wheelchair users in situations where a normal passenger lift is not possible or a wheelchair ramp is not appropriate, which was the case with this application. movemanSKG's reputation meant it was the first choice to supply the lift.
The lift, a Companion Prestige model, has a rated load of 400kg. It is situated in a corner of the building and takes visitors with impaired mobility to the first floor, to view 250 new bikes on display. The Prestige is a self-contained unit, and complies with all building regulations.
Paul Archer, Managing Director of Rutland Cycling commented, "movemanSKG offered us good advice about the type of platform lifts available and what was best for our requirements. They have many years of experience and good quality products, which is why we chose them as the lift supplier. We were very happy with the service provided by movemanSKG, and the lift, although only used by a small percentage of visitors, works very well."
For more information visit www.movemanskg.co.uk.
Information
Article reference:
mm079
Date:
Apr-06
Hi-res picture
View a high resolution of the image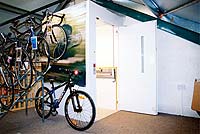 Other News Links
Previous article:
Next article: