moveman Adds A Mother's Touch
As a leading supplier of platform lifts, movemanSKG has a strong commitment to improving wheelchair accessibility within UK industry, commerce and the care market. The Mothers Union (MU) is one of movemanSKG's latest applications, and is one of many installations for a charity.
A Christian organisation with more than 3 million members worldwide, MU runs projects and events to encourage and support families, such as drug awareness programmes and campaigning against child poverty. Run by dedicated volunteers, MU was voted charity of the year in 2004.
The Mothers Union runs a number of shops, one of which was recently installed with a Prima Plus platform lift from movemanSKG. The Prima Plus can travel to 1000mm with a load capacity of up to 300kg, and runs on a 240v single-phase power supply. The lift did not require a structural wall so was installed in just a few hours, meaning that the shop could operate as normal throughout the installation process.
The new platform lift enables disabled customers to access the upper level of the shop, which was previously unattainable and therefore not in use. It has glass, manual gates for safety and easy access, and the fact that it is a self-contained unit means that the lift can be relocated and reinstalled at an alternative site within the same building, should be this be required in the future.
For more information about movemanSKG and its full range of products visit www.movemanskg.co.uk.
Information
Article reference:
mm070
Date:
Aug-05
Hi-res picture
View a high resolution of the image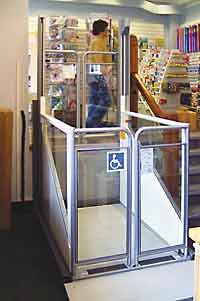 Other News Links
Previous article:
Next article: