All Rise At Student Accommodation
Students residing at the James Baillie Flats in Leeds are rising to new heights thanks to the help of movemanSKG Management, the UK's leading supplier of wheelchair lifts, who recently completed the installation of a specially designed external platform lift.
With the lift being external to the building, the project promised to be particularly challenging. It was essential that the lift was able to withstand all the rigours of the British weather, any attacks by the keenest of vandals as well as ensuring that it was aesthetically pleasing to even the most critical of eyes.
But movemanSKG rose to this challenge. Dedicated to working in partnership with their clients in order to provide the ideal solution to their problems, movemanSKG liaised closely with both the architects and building contractors to manufacture an individually specified Companion Prestige lift which was perfect for the job.
John Garner, Regional Manager for contractor Gleeson's Northern Construction Division, explains: "To comply with building regulation the issue of access had to be addressed and a number of options were evaluated. Initially a ramp was considered but it would have had to be almost the length of two football pitches so it would have been extremely cumbersome."
It was this problem which led the company to contact movemanSKG. "We were very pleased with the services offered by movemanSKG" John continues. "They provided a practical and cost effective solution all within the short delivery period of nine weeks."
Designed to take less able students from the car park to the lower building level entrance, the lift travels a distance of 3.7m and is a totally self-contained unit encased in an external shaft. Although the Companion Prestige does not require a wall or structure for support, the lift was specifically designed to utilise a pre-prepared brick surround that provides half of the enclosure.
A welcome 'lift' for the students indeed.
Information
Article reference:
mm056
Date:
Jun-04
Hi-res picture
View a high resolution of the image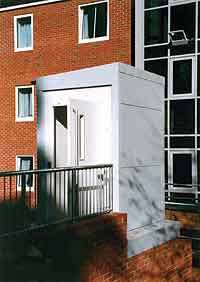 Other News Links
Previous article:
Next article: