Six Of The Best!
Trinity College, Dublin is one of Ireland's oldest seats of learning, dating back to before the Tudor monarchy. It houses the largest research Library in the country. The Library has almost 4 million volumes and contains extensive collections of manuscripts, maps and music, dating back over the colleges 400 year history. The Library complex was recently extended with the completion of the Ussher phase, which was officially opened by the President of Ireland, Mary McAleese in April, and the refurbishment of the existing Berkeley and Lecky Libraries. This impressive learning and reference resource, in common with the rest of the campus, is equally accessible to the less able. Leicester-based movemanSKG, a subsidiary of Otis, has installed six of its Companion range platform lifts, throughout the site.
Platform lifts are an ideal alternative to a flight of steps, an undoubted barrier to disabled access, in situations where the installation of a conventional passenger lift is not practical. The platform lifts installed at Trinity College are a mix of movemanSKG's most popular models. Depending on the travel heights required, the Prestige and the Supreme have been specified. Current legislation dictates that platform lifts, which travel more than two metres must have an enclosure that extends at least two metres above the upper floor level. Below two metres the enclosure need only extend 1100 mm above the upper floor level.
The Prestige is designed to travel up to three storeys indoors and has a rated capacity of 400kg. It is a totally self contained unit, runs on a 240volt power supply and is supplied with an integral shaft. No additional supporting structure is required and the shaft is capped and lit in accordance with current legislation. Doors are self closing with powered opening an option. The platform measures 1500 x 1100mm and is big enough to accommodate a wheelchair user and attendant.
The Supreme is capable of lifting a 250kg load and has a maximum travel of two metres. Again structural work is minimal as no pit is required. The unit comes complete with its own enclosure, which prevents the possibility of anyone or anything being trapped underneath or falling off the platform. The upper section of the enclosure and door as well as the upper landing gate are glazed in clear safety glass. Both the door and the landing gate incorporate self-closing devices for ease of use by the less able.
Both the Prestige and the Supreme can be either floor or shallow pit mounted. A fixed access ramp is provided at the lower level on floor mounted versions.
Information
Article reference:
mm046
Date:

Hi-res picture
View a high resolution of the image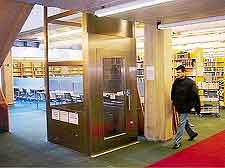 Other News Links
Previous article:
Next article: