movemanSKG Platform Lift Installed At Sheltered Housing Scheme
Cambridge City Councils housing services department runs seventeen sheltered housing schemes around the city. During 2001 it won a prestigious "Approved Project" award, from the Housing Forum, for modernisation work carried out at one of the properties. The award winning scheme included a Companion Prestige platform lift from market leaders Movement Management.
Originally built in 1964, Whitefriars provides sheltered housing for elderly people. The aim of the modernisation programme was to convert previously old fashioned accommodation, which was difficult to let, into a modern, pleasant living environment. The new accommodation comprises of nineteen self-contained flats with improved communal areas and a new conservatory. The building has been designed with the needs of the less able in mind with one of the flats being suitable for wheelchair use. The Movement Management Prestige lift, located in the foyer, provides alternative access to the upstairs accommodation and facilities.
The Prestige was chosen because it is supplied as a totally self-contained unit with its own enclosure. No separate area is required to house the motor assembly. The Prestige has a carrying capacity of 400kg and is designed for travel up to three floors. It has a platform, which measures 1500 x 1100mm providing sufficient space for a wheelchair user and attendant. Importantly the platforms dimensions meet or exceed the recommendations laid down in the relevant section of the UK Building Regulations and BS 8300, the new code of practice covering disabled access within domestic and public buildings. Additionally the Prestige carries the CE mark, a declaration of conformity with relevant European safety standards.
The unit installed at Whitefriars has an enclosure fabricated from steel with glass panels in one side and is painted white to match the decor in the rest of the building. It has a travel height of 2.62 metres. Access doors at both landings incorporate self closers and are mechanically and electrically interlocked with the lift travel controls for safety.
Will Barfield, who was the project manager for the Whitefriars refurbishment programme, says of the installation. "The Movement Management platform lift was the most cost effective solution, we considered. The Prestige is so easy to install because it is supplied as a complete unit. Only a minimal amount of building work is required to accommodate the lift. It is obviously designed with the needs of wheelchair users in mind and the lift has proved to be a tremendous success since Whitefriars reopened."
Information
Article reference:
mm031
Date:

Hi-res picture
View a high resolution of the image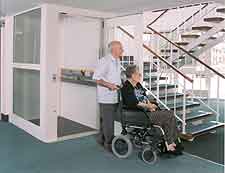 Other News Links
Previous article:
Next article: