Movement Management Helps HSBC Asset Finance Meet Requirements Of The Disability Discrimination Act
Leicester-based Movement Management has installed a Companion Supreme platform lift, to provide access for disabled visitors to HSBC Asset Finance's Birmingham headquarters. The offices now fully comply with the Disability Discrimination Act (DDA).
A division of the HSBC group, the company provides asset based finance, including leasing, instalment credit, fleet funding and related management services. The HSBC group is one of the worlds largest banking and financial services organisations, with operations in seventy nine different countries and territories and assets of US$674 billion.
When the asset finance division planned the refurbishment of its reception area, it was imperative that the DDA was fully considered. John Hipkiss, Property Services Manager at the Edgbaston offices explains. "We wanted to ensure that the less able would have the same level of access to our offices, as all other visitors."
The redesigned reception area has created a much more welcoming environment. The main entrance is at ground level and to gain access to the office suites, it is necessary to climb a short flight of stairs. The upper floors of the building are served by standard passenger lifts. A Movement Management Supreme platform lift provides an alternative to the staircase, allowing wheelchair users to reach the main passenger lifts. The Supreme was specified because its unobtrusive design complemented the surrounding decor and required no special building work as the platform lift is supplied as a complete unit, including its own enclosure. The Supreme has a capacity of 300kg, suitable for a wheelchair user and attendant, and can travel up to a height of two metres. It carries the CE mark and fully meets the requirements of all European legislation, as well as relevant UK building regulations.
Commenting on the success of the installation, John Hipkiss says. "We are delighted with the end result. The new platform lift is finished in stainless steel with glazed panelling and blends in well with the overall scheme in the reception area. We have been impressed by the service from Movement Management. They provided good training in the use and maintenance of the lift and we have had no problems since its commissioning."
Information
Article reference:
mm024
Date:

Hi-res picture
View a high resolution of the image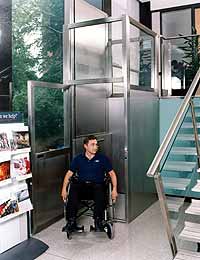 Other News Links
Previous article:
Next article: