Movement Management Presents The New Low-Cost Goods Lift
Leicester-based Movement Management, a subsidiary of Otis UK, introduces the Titan, a heavy duty goods lift, based upon its popular Prestige disabled access platform lift.
The Titan has the ability to fit where and whenever a traditional goods lift will not. It is capable of transporting payloads of up to 1500kg, with a lifting height of up to six metres, if required. It is supplied as a totally self-contained unit, no separate area is required for the drive and motor assemblies. It has its own integral shaft, which ensures safety and load integrity within the lift. Installation is therefore very straightforward and can be performed in a matter of days. The Titan only requires a shallow pit of 200mm depth, which means that building works are kept to a minimum, adding to the Titan's overall appeal.
Available with a wide choice of platform sizes and door options - single entry, open through or adjacent entry, the Titan is configurable to suit a variety of goods only applications and building designs. The unit features simple pushbutton landing controls for the key functions of operation. The buttons are mounted within the doorframe at each floor. In case of emergency, a hand lowering device is located within the ground floor control panel.
As with all Movement Management products, the Titan is fully EC type tested and conforms to the relevant EC directives, governing this type of equipment.
Information
Article reference:
mm023
Date:

Hi-res picture
View a high resolution of the image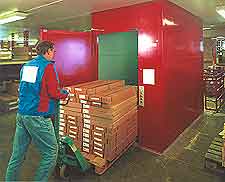 Other News Links
Previous article:
Next article: