Two Hundred Not Out!
Movement Management, the specialist supplier of platform lifts for the disabled access market, has just won its two-hundredth order for its improved Companion Prestige model.
The new version of the Prestige, which was introduced to the UK market only eighteen months ago, importantly fully meets the requirements of Approved Document M, a section of the English and Welsh building regulations. This is a statutory piece of legislation that gives definitive specifications for a buildings features which provide access for disabled people.
Commenting on the achievement, Boyd Porter, Sales Manager at Movement Management, says. "We were one of the first companies to recognise the special needs of wheelchair users. When we took the decision to enhance the design of the Prestige, in line with Document M, we were confident that it was the right move. Achieving sales of 200 units in just eighteen months is, however, way above our forecasts. This is a reflection of the tremendous confidence both specifiers and users have in the Prestige platform lift."
Designed for travel up to three storeys indoors, the Prestige is a totally self contained unit, with a rated capacity of 400kg, suitable for a wheelchair user and attendant. It runs on a 240v single phase power supply and has its own integral shaft. Installation is very straightforward, requiring no adjacent wall or other support structure. A range of finishes and other options is available, making the Prestige suitable for installation in any type of building, including schools, hotels, restaurants and offices.
Information
Article reference:
mm022
Date:

Hi-res picture
View a high resolution of the image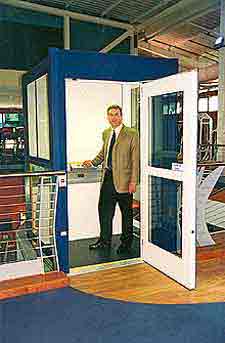 Other News Links
Previous article:
Next article: